Why You Need a Custom WordPress Website
February 9, 2022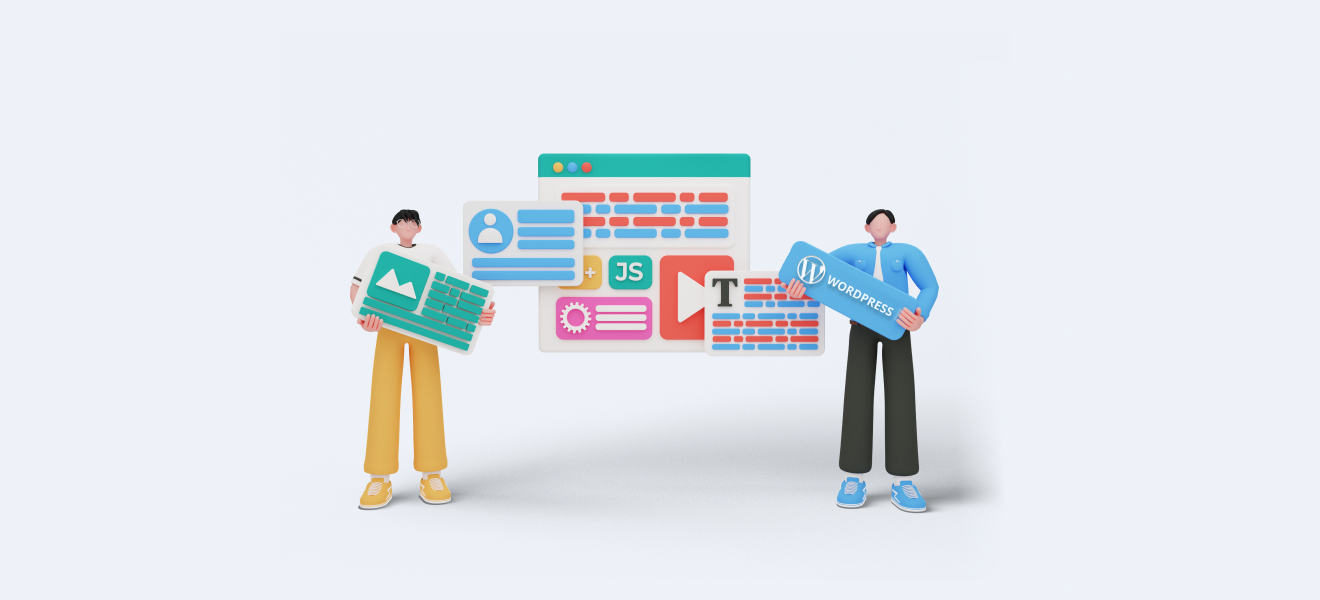 With a staggering 65% market share, WordPress powers some of the most popular websites on the internet today! The open source PHP platform offers users the ability to use various plugins to suit the purpose of their website along with the option to install templates and themes for further customizability. WordPress makes starting a blog, website or even an online store easier than ever. Powering 1.3 billion websites, WordPress gives users the choice between using an 'off-the-shelf' template or designing a custom website. While both have their pros and cons, it's a custom WordPress website that you should go with based on several factors such as customizability, performance, security and the overall reliability. In this article, we will discuss the top reasons why you need a custom WordPress website.  
What is an 'off-the-shelf' template?
The simplest way to attain a digital presence using WordPress without burdening your budget and time constraints is by using an 'off-the-shelf' template. These templates let users apply pre-built themes to their websites and are available in numerous designs. The majority of the effort that users have to put in while using these templates is creating content that can easily be applied to these themes. These themes are available across a range of designs to match virtually every industry vertical, offering users another degree of convenience. 
Here are some of the reasons why so many websites purchase templates: 
Time-Saving:

Pre-built templates are very easy to install on WordPress. They take the coding away from website development and lets users get straight to creating and uploading content without worrying about the HTML, CSS or JavaScript.  
The Design Range:

Regardless of the industry, there is a WordPress template available online that can suit your business. Moreover, WordPress has a large range of plugins and extensions that make the process even simpler. 
The Financial Aspect:

Since the templates are not very expensive and there's minimal effort required to develop a website using pre-built themes, it makes it very cost-effective to deploy and maintain a website. 
However, the drawbacks of using 'off-the-shelf' templates should be considered as well, such as:
Some of these templates have poor quality code written at the backend that will result in performance and security issues down the line. And there's very little you can do about it. 
These ready-made themes after a while may be unable to support newer updates to WordPress or PHP that are released which may result in poor functionality or the site completely breaking down in some cases. 
Why we recommend building a Custom WordPress Website 
Let's start off by discussing the steps involved in developing a custom WordPress website. The process begins with a UI/UX design of the website. A professional designer will conduct a few interactive sessions with you to understand your business goals and design philosophy. He/she will take into account every intricate detail whether it's related to the appearance or functionality. While keeping in mind these points, the designer will begin crafting the website design. After you have approved a design that speaks your brand, the time consuming custom development process takes place after which your website is finally deployed on a WordPress hosting, and is ready to go live. 
Now you might be wondering if the process is so time and budget consuming, why is it recommended to go with a custom built site. Well, here's why:
Individuality
Aesthetic features such as your brand's logo, colors and even the typography are a representation of your brand identity. Since countless other websites may be using the same 'off-the shelf' template, your website will look like theirs which is a major constraint to brand differentiation. Using a custom design lets users apply their unique design philosophy to their websites and establish their individuality. This even extends to minimal factors such as icons and animations. Every element of design on your website is a representation of your brand's goals, vision and emphasizes the purpose behind your content. 
Performance
While designing your custom WordPress website, you will have complete control over the technical aspects of things. For example you can choose which plugins your website requires and what pieces of code are relevant to its functionality. Removing redundant pieces of code, and minifying CSS and Javascript can improve the website's speed and load times. Having a complete degree of control over your website's features and optimizing its performance results in a better user experience. 
Security
Maintaining the integrity of a website's content and the security of its visitors requires security measures to be taken well in advance of publishing the website. Financial transactions, hacks, and data breaches can have potentially devastating effects. To prevent these, you can take several measures such as using trusted plugins, keeping the code tight, and removing any security loopholes from the website architecture. 
Improved SEO (Search Engine Optimization)
SEO is a vital component of online marketing and implementing a sound strategy while designing a custom website can help your site compete for top rankings on the search engine. On-Page SEO focuses on optimizing your website's internal features such as the titles, tags, links, headings, meta descriptions and every other element that can help search engines identify relevance. Technical SEO involves optimizing the load speed, responsiveness, page indexation and structured data across the website.  
SEO is your gateway to getting organic traffic on your website that can be converted to leads and customers. And you can only fully achieve this with a custom WordPress website because a template will always have it's limitations.
Maintenance
To keep your website up and running at its best, it is crucial to maintain it. Regular website maintenance may involve:
Running regular performance and security audits

Fixing broken links

Managing redirects

Fixing any issues with speed or responsiveness 

Taking regular backups

Keeping the plugins, WordPress and PHP version updated

Optimizing the website for SEO
With a custom WordPress website you have full control over all of the above so that you can regularly maintain your site and keep utilizing it to its maximum potential. 
Looking to build a Custom WordPress Website:
If you are planning to build a custom WordPress website, you should consider pubGENIUS. With 100+ years of combined experience and a team consisting of the most expert Web Developers, we deliver state-of-the-art websites to our clients. Businesses trust us with all their custom software development projects including web development, mobile app development, browser extension development, and UX/UI design. Contact us today for a consultation.